Our Nursery One Class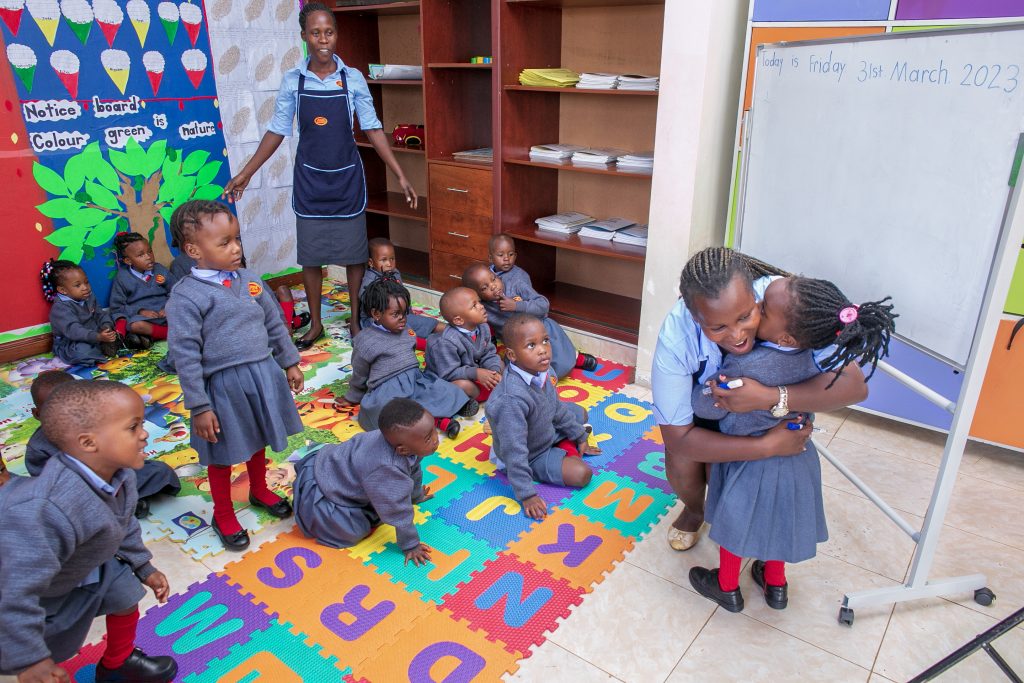 Our daily routine: We welcome learners with a hug and greetings. We then have the morning circle where we carry out different activities like singing songs, rhyming, health parade, dancing, physical exercises, and morning devotions.
Class routine: We have time for toilet use, then large group activities where teaching takes place. We have smaller group activities where learners carry out their activities like painting, modeling, cutting, pasting, and puzzle fixing. We also have pack-up time and then work time and snack time. There is also time for outdoor play time where the learners go to the slides, swings, football, and athletics. Then there is roll call time, snack time, resting time, planning time, and home time. The learner is then released at 4.00 pm.
All children belonging to this age category are independent with a curious attitude, so they have a growing interest in other children.
We currently have Nursery One to Primary Three. However, we plan to expand every year to
add a class or two until we have classes up to Primary Seven.
Please visit the school and you will receive all the necessary information on the school fees structure. We assure you that it is affordable and includes all school requirements like stationery and meals.
Jorene Academy currently has 3 school vans that pick up and drop off our learners from their homes. The transport fees are dependent on the location of the child's home. Details can be obtained from the front office at the school.
LIST OF SCHOOL REQUIREMENTS
NO ITEM
1 PASSPORT PHOTO OF THE CHILD 2
2 PASSPORT PHOTOS FOR BOTH PARENTS/GUARDIAN 2 EACH
3 PHOTOCOPY OF IMMUNIZATION CARD 1
4 REAM OF WHITE PAPER ROTATRIM 1
ADMISSION FEES 100,000/=
NURSERY FULL DAY 800,000/=
NURSERY HALF DAY 650,000/=
PRIMARY 800,000/=
SCHOOL UNIFORM 250,000/=
SWIMMING 90,000/=
PLEASE NOTE
All stationery is provided at school.
Parent Comments
Naye Mukama, To God, be the Glory. Abigail has been answering questions about a story and I like, Oh my God! Tweyanziza you… meaning "Thank you so much."
"Thank you for this morning's broadcast. I am happy to see the class monitor presenting at the assembly. He must have been looking forward to the presentation. We have had to make an assembly every time he comes back home so he can address us. Thank you to everyone who has put it all together." Daddy Hezekiah
"My eyes are watery with tears of joy from the video you shared with us this morning. You have made us proud of our decisions to entrust you with our little ones. Good job. And thank you to all teachers." Mummy Elma.